The Language School
The International Language Centre – ISD (Internationales Sprachzentrum Dialogo) is a modern language school in Freiburg.  It is located at Habsburgerstraße 83, 750 meters from "Siegesdenkmal," and only 10 minutes walking distance from the city centre on Habsburgerstraße, one of the main streets which leads to the elegant historic district of Herdern. There is also a second school in Rennweg 49, 7 minutes walking from the Habsburgerstr. 83.
The school is also easily accessible via public transport: tram line No. 2 stops "Tennenbacherstraße" and "Hauptstraße" are the nearest stops.  Those driving a car can easily park in Habsburgerstraße or in the perpendicular streets Jacobistraße and Burgunderstraße (or in the surrounding area).  The school provides a well-priced bike rental service for those enrolled in intensive German classes.  It's worth making use of this service, seeing as ISD is only a three minute bike ride away from the city centre.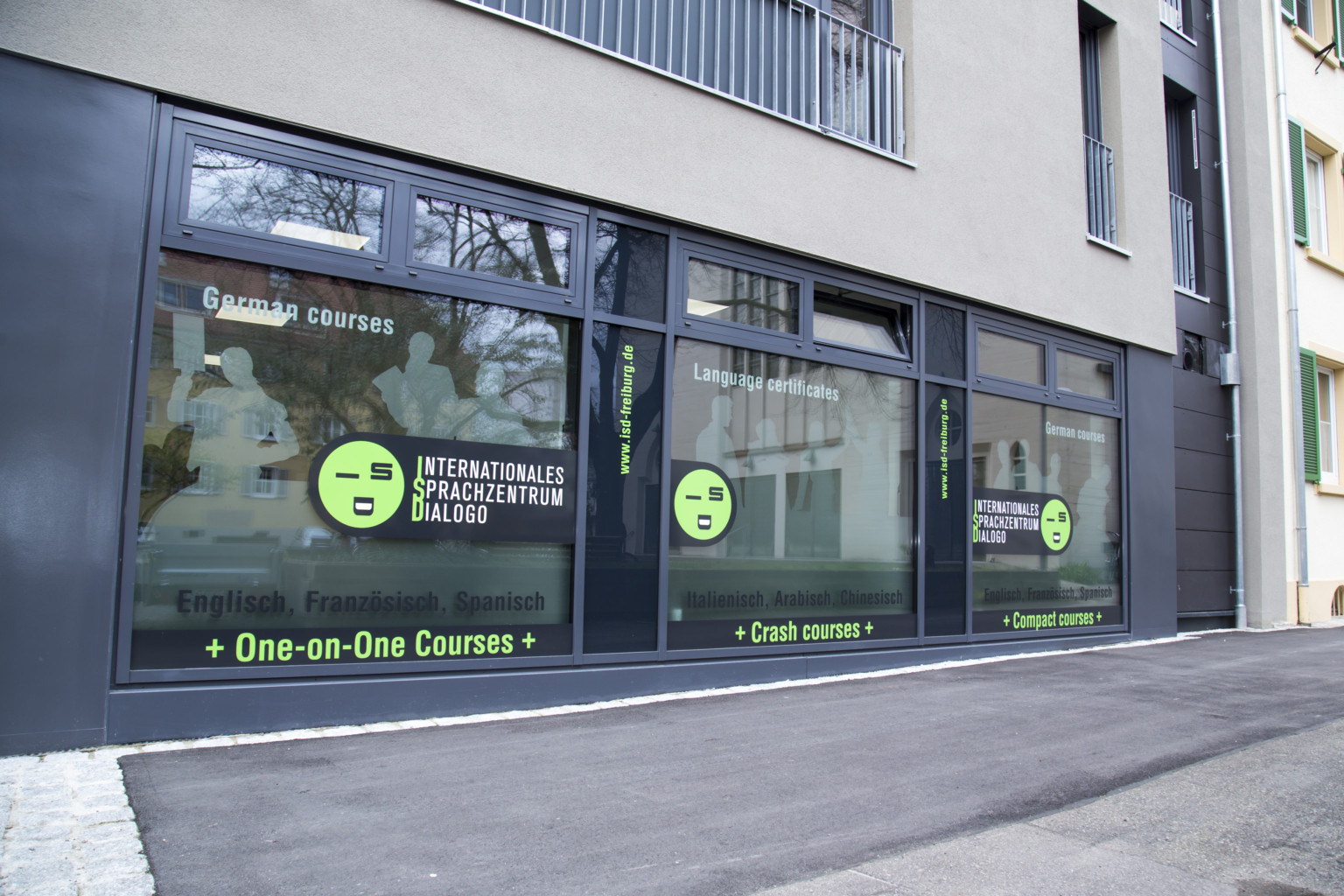 Courses at ISD take place in a modern and pleasant environment, offering ideal learning conditions: eight welcoming classrooms, a lounge area where you can relax and have coffee, a kitchen, and two sunny terraces. Classrooms are supplied with modern multimedia equipment (TV/DVD, projectors, audio players and free internet connection).
ISD offers a wide range of courses: German, English, French, Spanish, Italian, Arabic, Russian and Chinese. Our teachers are mostly native speakers, trained by our international team. All teacher are officially certificated and take part to regularly organized workshops. The school philosophy is focused on a continuos improvement of quality, in order to guarantee the best service to our students. ISD is certificated with AZAV and it is an official centre for education and formation in Germany.
Intensive German classes take place in the morning and during the afternoon, while other language courses are in the early evening (from 5:00 p.m. to 9:30 p.m.). Groups consist of a minimum of 5 and a maximum of 14 participants in order to ensure maximum learning benefit for the students.  The programmes and the learning rhythm are tailored to suit your requirements and interests.  Personalised one-on-one private classes  (for one or two students) that are designed to fulfill the needs, goals, and time schedules of each individual are also available.  To select the class best suited for you, you can evaluate your level in the free placement test available online or directly in the school. Enrollment is possible at all times.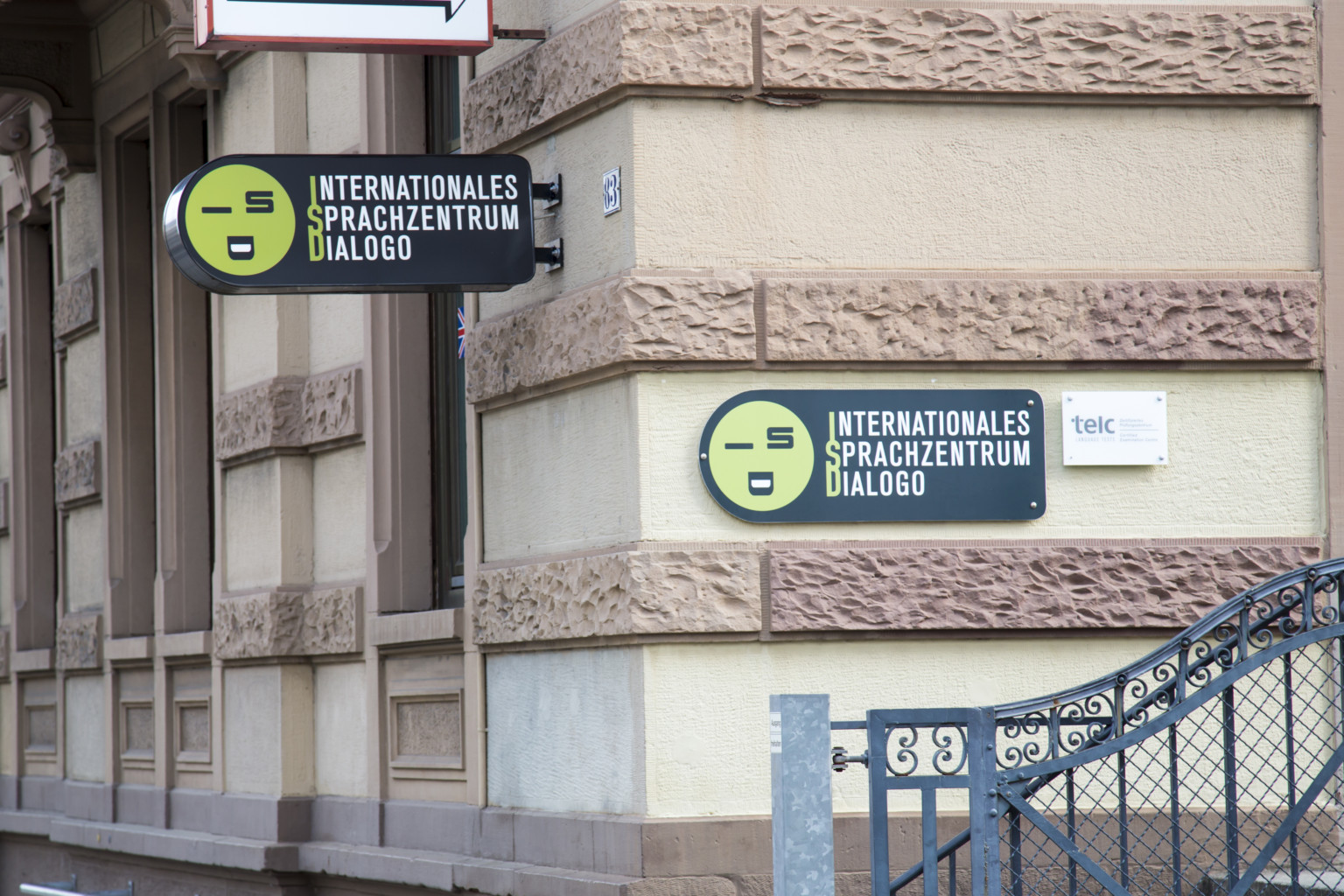 Quality plays a particularly important role for us at ISD.  Therefore, we combine regularly updated learning material with individual support and assessment.  Thanks to the advanced experience of our international staff, a reliable and up-to-date learning frame is guaranteed.
Learning a foreign language means acquiring both comprehension and communication skills.  We believe that individual support is essential in order to achieve this goal.  Hence, we ensure small, friendly groups of up to 12 students and focus on oral communication, seeing as this is of utmost importance in all social situations.  Nonetheless, writing also constitutes an essential part of the course programme.  To help students gain confidence in writing, we provide on-line exercises, textbooks, and multimedia material.
Our aim is to improve your language skills by means of active involvement rather than passive, so that in a short time you will notice outstanding learning improvement.
All German language courses are intensive and last a minimum of two weeks.  Classes are held five days per week, each day consisting of four 45-minute lessons.
In addition, we offer preparation classes for the DaF to DSH tests every afternoon at 5:30 pm.
Our enthusiasm and commitment to ensure effective learning is emphasized by our offer of organised activities, such as barbecue evenings, hiking, parties, and meetings.  We know from experience that the best way to be integrated in the foreign language is to be immersed in social situations in which one can practise and improve one's communicative skills.
Foreign languages (Spanish, English, French, Italian, Arabic, Russian and Chinese) can be learned in various settings.
In PLUS Group-courses:  15 meetings, once per week incl. one cinema evening or one cooking evening
In Crash Group-courses:  10 meetings, 4 times per week (for a total of 2 and 1/2 weeks)
In Individual courses (lessons for 1 or 2 persons):  Number of meetings, meeting times, and learning progammes will be personally customized with the administration and teacher.
Additionally, regular activities such as trips and excursions may be organized, which provide the participants not only with direct contact with the spoken language, but also with the culture of the target language.